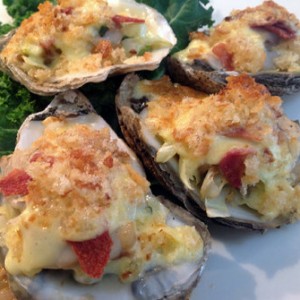 ---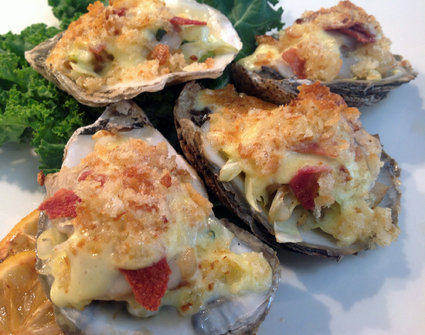 Baked Cromane Oysters with Smoked Alsace Bacon, Kale& Tom Crean's Larger Sabayon
Yield 12 Oysters
2 Egg Yolks
½ Cup Tom Creans Larger
1 Dash Lemon Juice
1 Cup Unsalted Butter melted
1 Bunch Blanched Kale
4 Slices Smoked Alsace Bacon
To make the sabayon, in a double boiler, whisk the egg yolks, Tom Crean's Larger, lemon juice, salt and pepper together.
Place over barely simmering water, and whisk for 3 to 5 minutes, or until the sauce begins to thicken.
Remove from the heat, and gradually drizzle in the melted butter until the sauce is well blended.
Cook the kale in salted boiling water for 1 or 2 minutes, or until slightly wilted. Drain, and immerse in cold water. Drain again.
In a small skillet, heat the oil over medium heat. Cook the bacon until crisp. Using a slotted spoon, transfer to paper towels to drain.
Preheat the grill. Shuck the oysters over a small bowl. Reserve the deeper half of each shell, and rinse them under cold water.
Place the shells on a bed of rock salt in a small, sided baking sheet.
Divide the kale among the shells; put an oyster on top of each, and sprinkle the bacon over the oysters. Spoon some of the sabayon over each.
Place under the grill 4 inches from the heat source, and cook for about 3 minutes or until the sauce is browned and bubbling.
Serve immediately topped with fresh dill.