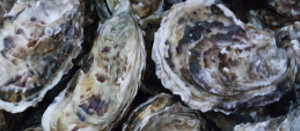 ---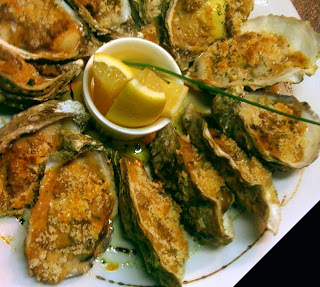 Grilled Oysters
6 Oysters / opened
50g of Gruyére Cheese
Tomato Compôte
1 small onion / finely chopped
5 garlic cloves / crushed
10 plum tomatoes / chopped or
1 can of chopped plum tomatoes
1 tblsp of tomato purée
1 tablsp sugar Seasoning
100ml of extra virgin olive oil
1 bay leaf Tabasco / Worchester
Rocket and Garlic Butter
100g Rocket 10 cloves garlic / peeled
25g parsley / picked
200g soft butter
Coarse Salt
To make the butter, place rocket, garlic and parsley with a few drops of water in a blender and purée to smooth. Add the butter. Remove and place in the fridge.
To make the compôte, take a saucepan and place the onion and garlic in the olive oil. Sauté until soft (10 mins). Add the rest of the ingredients. Add salt and pepper to taste. Cook gently for 15 mins, stirring occasionally.
Place coarse salt in a 2 inch pan. Remove the oysters from their shells. Wash shells and place on the coarse salt. Place a small amount of compôte in each shell. Place the oysters on top. Place a little cheese on top of each oyster. Place a little butter on top of each.
Place under pre heated grill for 3 to 4 mins or until the cheese and butter have melted.
Remove from the grill and place on a serving dish.