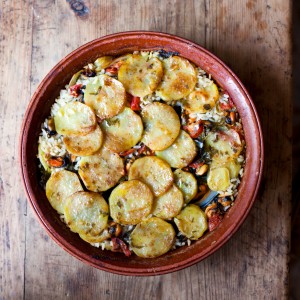 ---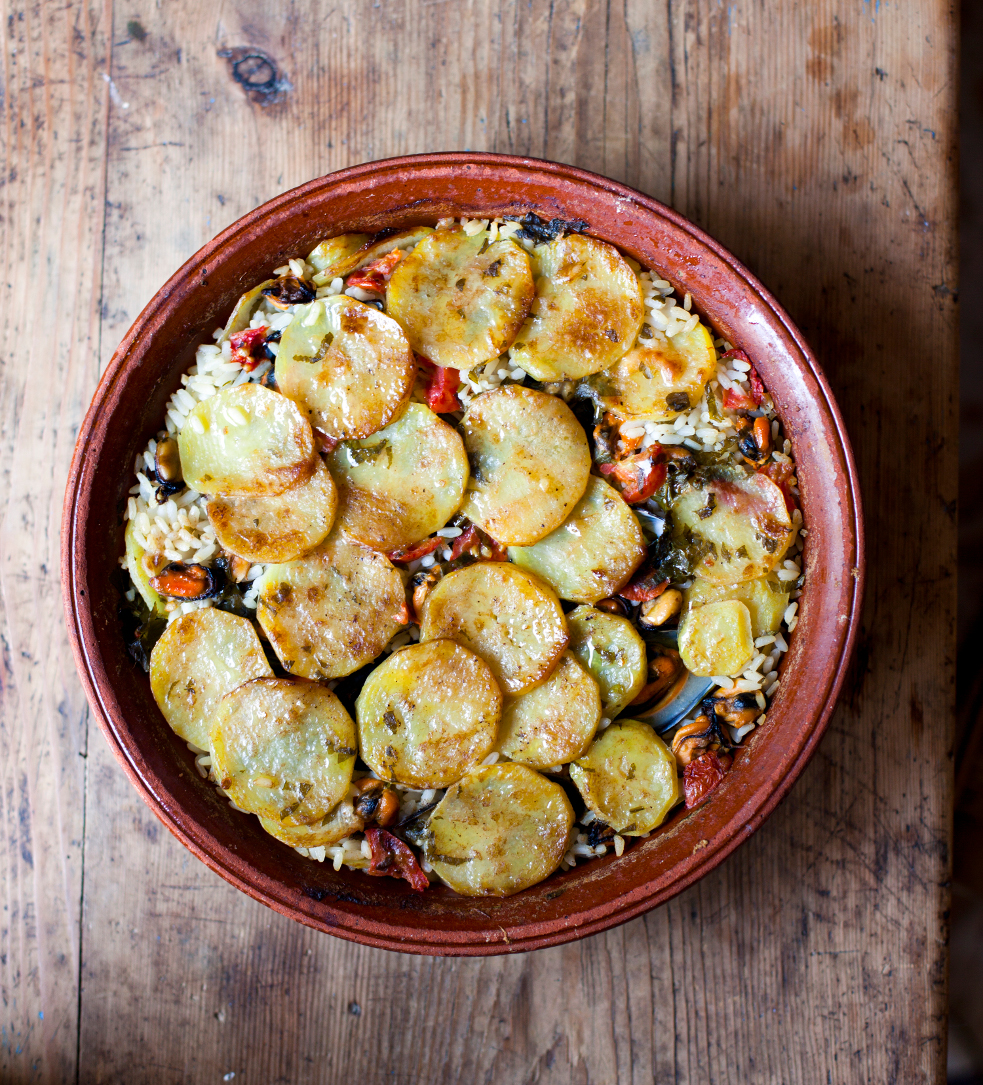 Baked Mussel Risotto
Serves 6
700g Arborio rice
2 onions, very finely diced
450g ripe tomatoes, roughly chopped
1 stalk of celery, chopped
2 garlic cloves, finely chopped
A good handful of Parsley, roughly chopped
A small handful of Oregano, roughly chopped
5 tablespoons of olive oil
teaspoon of dried chilli flakes
900g mussels in the shell, scrubbed and de-bearded
glass of dry white wine
900g waxy potatoes, peeled and sliced
Sea salt and freshly ground black pepper
Mix the Arborio rice with the onion, tomato, celery, garlic, parsley, oregano, dried chilli flakes and a good glug of the olive oil. Season with sea salt and ground black pepper.
Place a large pot over a medium high heat, add in the mussels and white wine. Cover with a lid and cook for 4-5 minutes until all the mussels have opened, throwing away any which do not. Strain the mussels, saving the cooking liquid. When cool, remove the meat from the shells.
Preheat the oven to 200˚C.
Drizzle a medium sized oven proof baking dish with olive oil and spread a layer of the potato across the base. Season with sea salt and ground black pepper and spread with half the rice mixture. Top with the mussel meat and drizzle over half of the reserved cooking liquid.
Cover with another layer of potato slices and then spread over the remaining rice mixture. Drizzle the remaining cooking liquid on top and then pour in some boiling water to come halfway up the dish. Add a final layer of potatoes and drizzle with more olive oil. Give a final twist of black pepper an cover the dish tightly with foil.
Place in the oven to bake for 30 minutes. The dish is cooked when the potaotes are tender when pierced with a knife and the rice is al dente. Remove the foil and cook uncovered for a further 10 minutes until the potatoes are golden. Remove from the oven and serve.