Rope Mussels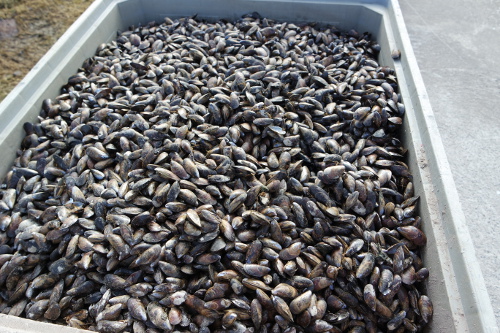 Rope Mussels
We stock Rope Mussels, the Blue Mussel (Mytlus edulis) (Diuilcin) sourced from Turk Head in Skibbereen. These mussels are grown and harvested using a longline floating system. Floats are connected together by horizontal lines that support a large number of vertical ropes where mussels are grown.
Most rope-grown mussel cultivators collect their own stock from the wild spat-fall. Rope mussels can be distinguished by their cleanliness, the bluish lightly yellow shell colour, their delicate taste and their high meat content.
Available All Year Round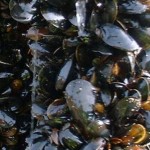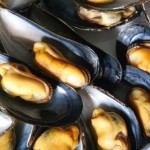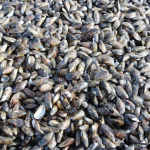 ---
Nutrition
Rich in protein but low in fat and calories, mussels form an essential part of a healthy diet. They are an excellent source of Iron and are beneficial for growth and immunity. They are also a source of other minerals such as Zinc, Iodine and Selenium and rich source of Vitamins such as B1, B2, B12 and Vitamin E which maintain energy, repair damaged cells and have anti-oxidation properties.
Raw Blue Mussels
| | |
| --- | --- |
| Serving Size | 3 Ounces (85 g) |
| Calories | 70 |
| Protein | 10.1 g |
| Carbohydrate | 3.1 g |
| Fiber | 0.0 g |
| Total fat | 1.9 g |
| Saturated fat | 0.4 g |
| Sodium | 243 mg |
---
Please Note: Allergy to shellfish is quite common and people who are sensitive can react to a number of different types of shellfish such as oysters, mussels and clams. People who are allergic to one type of shellfish often react to other types. Shellfish allergy can offen cause severe reations and some people can react to the vapours from cooking shellfish. People who suffer diarrhoea, nausea, vomiting, fever or other gastrointestinal symptoms after eating raw or undercooked cockles, oysters or other shellfish should immediately contact their physicians.
---